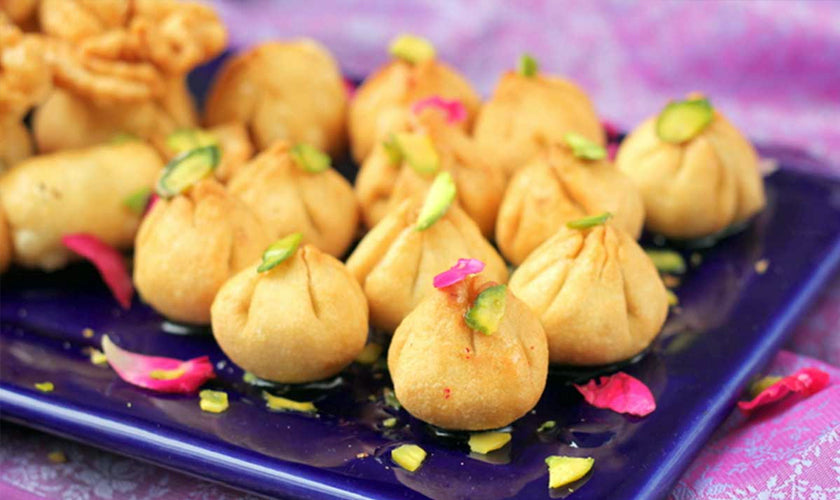 How to make Modak?
Lord Ganesha is known to have a sweet tooth for 'Modak,' therefore his believers offer 21 pieces of Modak as an offering during his puja. The below recipe to prepare Modak's is easy and will appeal to your taste buds making it an irresistible one for everyone.
Key Ingredients:
1 cup coconut, grated
1 cup Jaggery
A pinch of Nutmeg
A pinch of Saffron
1 cup of water
2 tsp. ghee
1 cup of rice flour
How to make Modak?
Heat a pan, add the grated coconut and Jaggery
Stir for about five minutes. Add the nutmeg and saffron and mix well.
Cook for another five minutes and keep aside.
Now, in a deep dish, boil water with ghee. Add the salt and flour and mix well.
Cover the dish and cook it till its half done.
Spread some ghee on the base of a steel bowl and while the dough is still hot, knead it well.
Take a little dough, roll it into a ball, flatten it well, and shape the edges into a flower pattern.
Put a spoonful of the filling onto the dough and seal it.
Put the dumplings in a muslin cloth and steam them for 10- 15 minutes. Serve with a smile.
You can always experiment with the stuffing of Modak as per your liking, from
Chocolate, Nuts, Khoya to Dry Fruits, add whatever suits your liking. You can also fry the Modaks instead of steaming them. Looking for high-grade Jaggery? You can visit Bebe Foods website and check out our wide range of Jaggery products. If Bebe Jaggery is not available at your nearby store then you can get it delivered at your doorstep across the country by ordering it through our online shopping partner's website or application like Amazon, Flipkart, BigBasket, MilkBasket, etc.