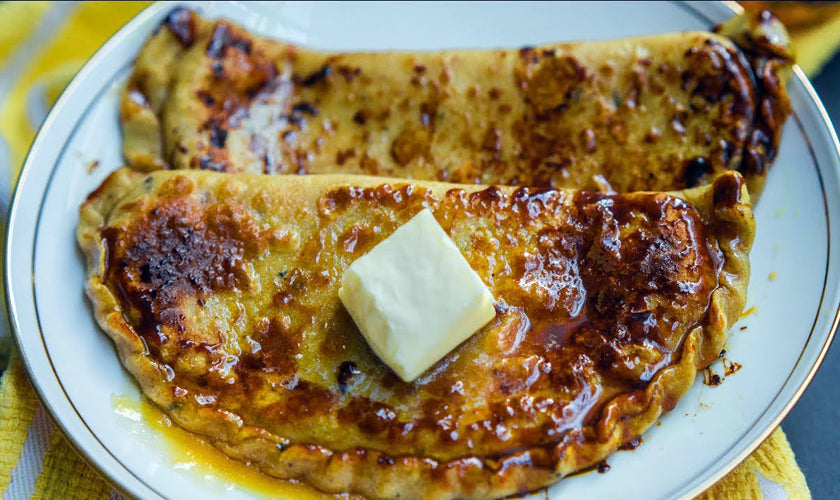 How to make Beautiful and Delicious Gur ka Paratha?
Be it anywhere in India, Paranthas are everyone's favourite. Indians can have Parantha with almost everything and anytime. Out of many types of Paranthas, Gur Ka Parantha has its own fan following. Wondering how would it taste like? Just imagine desi Caramel with Parantha in your mouth. Yummy, right!
So, here is your recipe to make delectable Gur Ka Parantha:
INGREDIENTS
2 cup wheat flour
25 almonds
4 green cardamoms
3 tablespoon powdered Jaggery
3 tablespoon ghee
1/2 teaspoon salt
Total Time: 30 m Preparation Time: 10 m How to make Gur Ka Parantha?
Step 1 : Take out flour in a big utensil. Add salt and 1 tsp ghee in flour. With the help of lukewarm water knead soft dough. Keep aside the dough for 20 minutes so that it gets fermented.
Step 2 : Add almond powder and cardamom powder in Jaggery and mix nicely. Take little amount of dough (equal to the size of small guava) and roll it. Meanwhile, make sure you preheat your Tawa.
Step 3 : Dust with dry flour and roll into 3-4 inch diameter parantha. Spread some ghee on top of the rolled parantha. Now place 1-2 tsp stuffing on the parantha and roll it back into a ball. Close the stuffing properly.
Step 4 : Flatten the ball so that stuffing gets even. Dust it again with dry flour and roll gently into 5-6 inch diameter thick parantha. Now, place the parantha on the already hot Tawa.
Step 5 : When it turns a little brown from beneath, flip the side. When the second side gets brown spots as well, spread some ghee on the upper side. Spread the ghee all around, flip the side and spread some ghee on the other aside as well.
Step 6 : Roast parantha until it gets brown spots on both sides. Likewise, prepare all paranthas.
Step 7 : Enticing and mouth drooling Gur Ka Parantha is ready. Serve hot! You can also experiment with different flavours of Jaggery to add flavours to your Paranthas. Just look for Bebe Foods Jaggery online and choose your favourite Jaggery product.