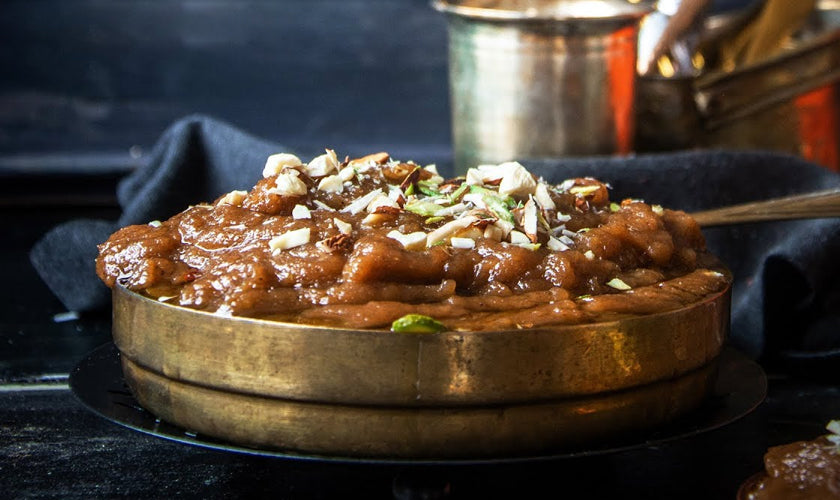 How to make Gur Ka Halwa?
Halwa is considered a mainstream sweet in Indian culture today. No matter how heavy Halwa is on the stomach, we love eating it. How about we tell you there is a way which will allow you to eat your favorite sweet more than once in a while? Frankly, it's no rocket science in it. We proudly present you 'Gur Ka Halwa' recipe in this blog. If your sweet Halwa is made of jaggery then not only it will be delicious, but also a far healthier than Halwa prepared using White Sugar.
Wait no more! Below is the magic recipe of Gur Ka Halwa:
Ingredients:
1 cup semolina
1/4 teaspoon fennel seeds
5 strand saffron
2 teaspoon raisins
2 cup of water
1/2 cup powdered jaggery
1/2 cup butter
2 teaspoon cashews
1/4 cup milk
Total Time: 35 m Preparation Time: 15 m How to make Gur Ka Halwa?
Take a pan and keep it on medium flame. Add clarified butter to the pan and
heat it. Then add fennel seeds and cook until they crackle. Now add semolina (sooji) to the pan and saute it till it browns. Keep the flame low or the sooji will burn.
Take another pan and heat water in it on medium flame. Once it comes to a boil, add jaggery. Let it dissolve. Keep the flame low and allow the water jaggery mixture to thicken.
Now add this jaggery- water syrup to the semolina. Cook on low flame for two three minutes and then add the milk and saffron (if you first dissolve saffron in milk, and then add, it would give a nice colour to the halwa). Once the halwa begins to thicken, add dry nuts and cook for further 2 minutes. Serve hot by garnishing with sliced almonds.
For Garnishing: Add 2 teaspoon almonds
Now, there is a catch here! We recommend to always use high-quality jaggery to
prepare your sweets. However, if you are facing issues finding the delicious yet best quality jaggery, then quickly check out our products as we offer a wide range of flavored jaggery products in different packs and sizes.