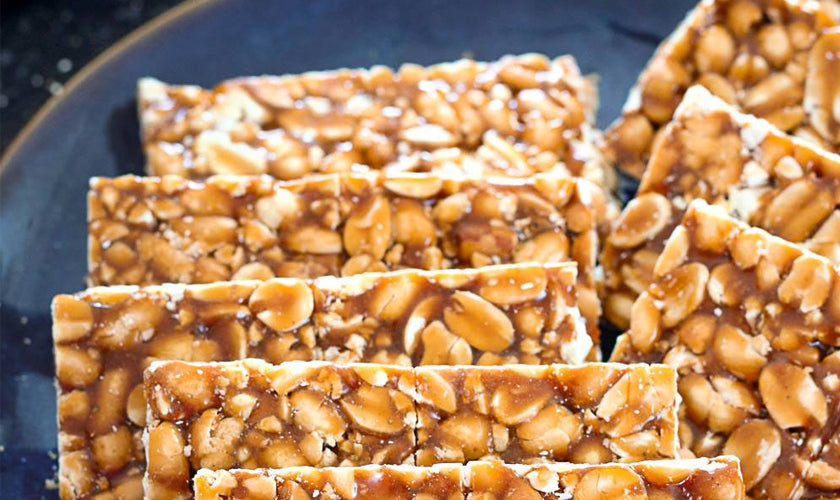 How to make Gur Ki Gajak?
Gajak maybe a winter season thing but for some, it is pure love. Once seen it becomes almost impossible to keep our hands off Gajak in any season. We are sure you have had various type of Gajak's in your life, but have you ever tried Gur Ki Gajak? Trust us; it's something you will never forget. Gur Ki Gajak is mellow, delicious, and healthy at the same time.
INGREDIENTS
400 gm Jaggery (Gur)
6 tablespoon ghee
4 cups of raw peanuts
Total Time: 15 m Preparation Time: 10 m For seasoning: 6 tablespoon fennel seeds How to make Gur Ki Gajak?
Step 1 : Heat ghee in a non-stick pan over medium flame. Add Gur to it and lower the flame. Allow it to melt and turn golden. Once done, add the Fennel seeds (Saunf) and mix it well.
Step 2 : Take another pan, add some ghee and roast peanuts in it. Once they are done, add roasted peanuts to the Gur mixture and blend it well. Cook at low flame.
Step 3 : Spread a foil sheet on a flat and sprinkle some ghee on it. Now transfer the Gur mix on the oil glazed sheet and spread it evenly across the sheet.
Step 4 : Let the mixture cool down. As it cools down, it will start getting hard. Now, serve these solid blocks by breaking it into small pieces and enjoy. To get the best out of the above recipe, make sure you are using all the ingredients in their purest form. We believe in 'Health Is Wealth' so let's make Gur Ki Gajak at home and enjoy the burst of this flavorful sweet item! Worried about getting tasty Jaggery? Don't be! Just check out our products to order your favorite Jaggery and get it delivered right at your doorsteps.