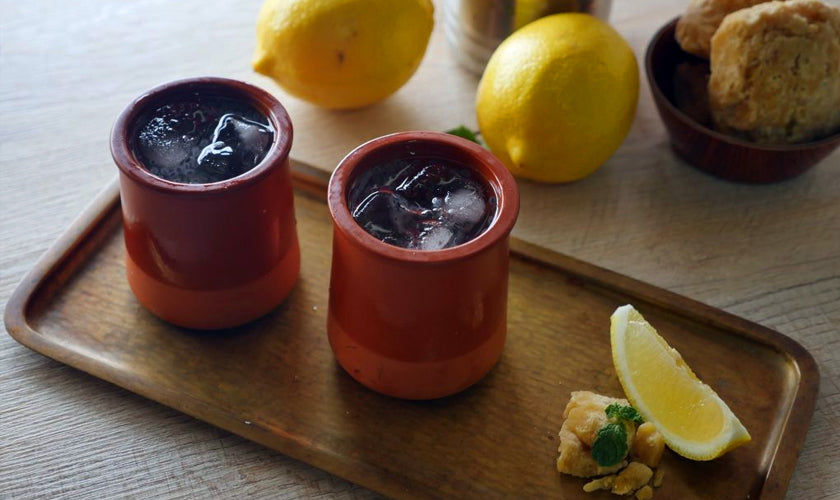 Gur-ka Sharbat Recipe
Do you know there is as much as 15 teaspoon of sugar in a half Litre of most of the soft drink products available in the market today? We are sure you know how this sugar can affect your body. Yes! We understand it's hot out there nowadays and you need something cool to keep yourself calm. Well, we have one recipe for your which is super easy as well as healthy. Gur Ka Sharbat is one such healthy summer drink that is rich in calcium, phosphorus and iron.
INGREDIENTS
Jaggery/Gur/Jaggery Powder – 125g
Water – 500ml
Half Lemon
Green Cardamom – 2
Basil herb – 7 to 8 leaves.
Mint – 4-5 leaves
Few ice cubes
How To Prepare Gur Ka Sharbat?
Add Jaggery/Gur/Jaggery Powder to the water and keep stirring until its fully dissolved.
Leave the mixture for 3 minutes and stir again
Extract the Lemon juice into the prepared mixture to make it bit tangy and get your daily dose of Vitamin C as well.
Add the crushed basil leaves to the mixture
You can also add mint leaves if you like the fresh flavour of mint.
Now pour the mixture to the glass with ice cube.
Stir the mixture once more and your super cool summer drink is ready
If you are feeling like doing more experiment with the drink, we have a suggestion for you. Instead of regular Jaggery, try Dry Ginger Jaggery or Fennel Jaggery for the burst of different flavours in your summer drink. Not sure where to get flavoured Jaggery? Well, you can check out our wide range of Jaggery products and get your favourite Jaggery delivered right to your home through our delivery partners like Amazon, Flipkart, Big Basket, Milk Basket and Paytm.