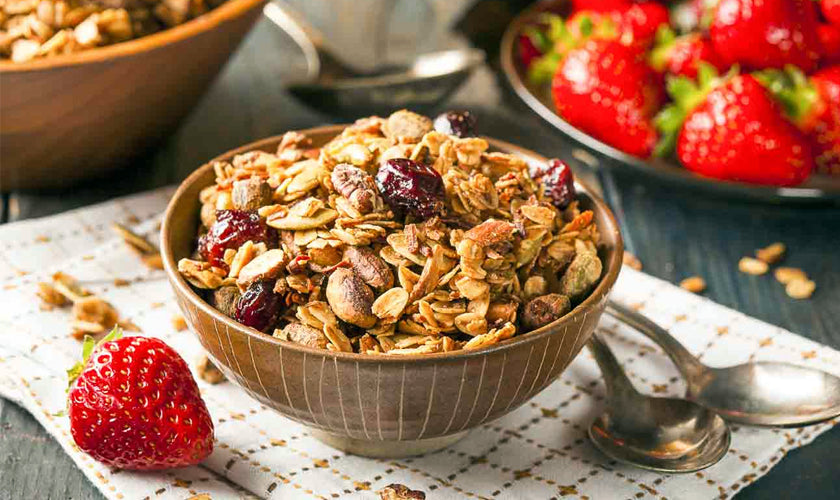 Stovetop Jaggery Granola Recipe
"A good Breakfast is the start of a good day as it fuels you up and gets you ready for the world" If you feel you are having the same type of breakfast for the last 5 years, then it's high time you add some more taste to your morning meal. How do you feel about something nutty, crunchy and healthy as your breakfast? Sounds delicious!!! Yes, it is gonna be delicious. Bebe Foods presents you the recipe of Homemade Granola using Jaggery.
INGREDIENTS
1 cup Rolled Oats
2 tablespoons Walnuts
2 tablespoons Almond
2 tablespoons Sunflower seeds
2 tablespoons Dates (chopped)
2 tablespoons Cranberries
1/2 cup Powdered Jaggery
1 teaspoon Vanilla Extract
1 tablespoon Coconut Oil
1/2 cup Corn flakes (crushed)
How To prepare Stovetop Jaggery Granola?
Dry roast the oats in a wide pan till it gives off an aroma. Set it aside for a while once done.
Roast the nuts and seeds separately in the pan with a tablespoon of oil till they are lightly brown in colour
Add Jaggery powder to the wide deep bottomed pan and slowly heat it till it's completely melted.
Next, add roasted oats to the molten Jaggery and keep stirring the mixture to avoid any burning.
Now, add nuts, cranberry, dates and seeds to the mixture and keep roasting on low heat till the granola turns dark golden brown and Jaggery is caramelized.
Next, add crushed corn flakes to the mixture and blend well. Remember to turn off the heat now and continue tossing all the ingredients for the next 2 minutes.
Finally, leave the mixture to cool down and transfer it to the air-tight jar once done.
Now, you can serve this delicious granola with milk as a healthy yet crunchy breakfast.
Granola bars can also serve as an after school snack for kids as it filling as well as good for health. For better taste, you must always use the best quality raw ingredients. If you don't have access to good Jaggery products around you then you can always check out the wide range of Jaggery products of Bebe Foods as we procure our sugarcane from the doab region of the Muzaffarnagar and is well known for its mineral-rich fertile land. Feel free to add various flavours of Bebe Jaggery to the Granola recipe to make it more flavorful and suited to your taste.