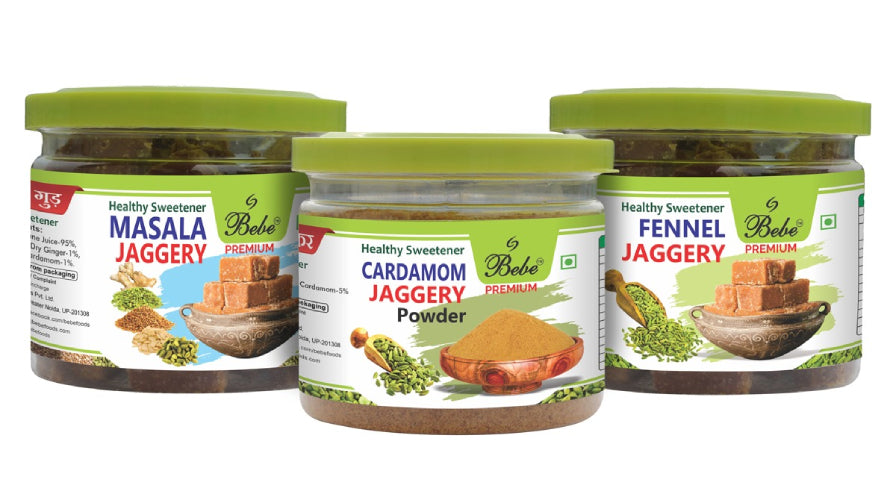 Is flavorful jaggery safe for human consumption
In the first place, why is flavoured Jaggery in question here? Why are people afraid to buy flavoured Jaggery and usually stick to just regular Jaggery despite liking the taste of the flavoured Jaggery more. It's because of the fact that few manufacturers add artificial flavours/essences to the Jaggery to enhance the taste of the products. However, health-conscious people do not accept eating artificial flavours in the name of eating healthy food like Jaggery.
Is Bebe Jaggery also flavoured by using artificial essences?
No! Bebe Foods do not use any kind of artificial essences to flavour our Jaggery products. Our products such as Fennel jaggery, Cardamom Jaggery, Celery Jaggery, Immunity Booster Jaggery and Dry Ginger Jaggery are an absolute delight to the taste buds and safe to consume. We use only natural products to flavour our Jaggery and make sure that the ingredients bring nothing but goodness to your health.
Here are a few health benefits of the flavouring ingredients that we use in our various Jaggery products:
Cardamom
Tea without this spice is not even considered a tea in India in some places. This spice has also secured an important place in kitchens all around the words due to its aroma. Cardamom is known to reduce high blood pressure, correct digestive ailments, fights bad breath, reduces inflammation, relieves respiratory ailments, and lower blood sugar levels.
Fennel
Fennel is known to help regulate blood pressure, reduce water retention, aids in digestion related problems, ease asthma symptoms, helps purify the blood, improves eyesight, calms the nerves, and helps in balancing hormones.
Celery
Ajwain has been used as an Ayurvedic medicine since ancient times and apart from being a major ingredient of many famous dishes, it is also known to help in digestive health, infection prevention, lowers blood pressure, treats common cold, eases toothache, ear, and arthritis pain.
Dry Ginger
Just like Cardamom, Ginger is also an important ingredient used to prepare Indian Tea, especially in winters. Ginger has find a special place in almost every household of India. This root is known to aid in weight loss, lowers cholesterol, helps in digestion, eases menstrual pain, abates nausea and morning sickness, lowers blood sugar levels, and reduces inflammation.
Holy Basil, Cinnamon, and Black Pepper
The above herbs/spices along with Dry Ginger powder (Saunth) are ingredients of our Immunity Booster Jaggery. These are known to give a substantial boost to the Immune system of Humans and help fight various health problems effectively. Holi Basil (Tulsi) is a plant worshipped by many in India and that's for not one but many reasons. This herb is known to clear skin, boost immunity, help in weight loss, act as a great eye cleansing agent, prevents hair fall, make you young by preventing premature ageing, and the list goes on. Cinnamon is so much loved as a flavouring agent that there is even a famous bakery chain known as Cinnabon. But, Cinnamon is much more than just being a flavouring substance. It's known to be loaded with antioxidants, has anti-inflammatory properties, cut the risk of heart diseases, improves the sensitivity of Insulin, helps in neurodegenerative diseases, fights fungal and bacterial infections. Black pepper is an amazing spice. It's known to be a powerful antioxidant, boosts nutrient absorption in the body, promotes digestion and prevents diarrhoea, addresses depression and relieves in common cough and cold. Nowhere in any food product of Bebe Foods, there is an addition of artificial flavours. All the food products are 100% natural and safe for consumption by even kids. At Bebe Foods, we strive hard to meet the highest standard of quality and hygiene. Our aim has always been to bring healthy food to the food table of the Indians and there is not even a slight chance of adding anything that can negatively affect the health of your family. Check out our whole range of Jaggery products at https://bebefoods.com/products and can buy genuine Bebe Foods products via our online sales partners such as Amazon, Flipkart and Paytm. You can also step in your nearest general store and buy your favourite Jaggery.