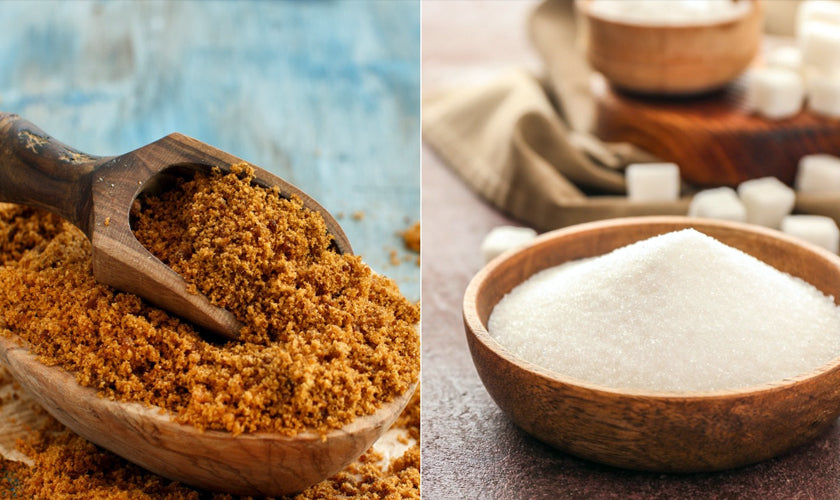 How is Jaggery a better alternative of refined Sugar?


Surprising? The above stats clearly show our fondness for this mellow caramelcolored healthy sweetener. Indians have been making Jaggery from Sugarcane for centuries now and thank God we are still aware of the art of traditional process of making Jaggery. Sadly, in the 19th century, Sugar manufacturing picked up the pace. Largely deemed as a sign of modernity back then, people quickly adopted it. It was in the 21st century that people realized how refined Sugar is making them unhealthy. And, like always we looked back at our roots and found out what we are missing. Thankfully, in today's refined Sugar dominated world, Jaggery is making an impressive comeback in India. People are warmly embracing their good old healthy sweetener – Jaggery!
How is Jaggery a better alternative of refined Sugar?

Though the raw material for making refined Sugar and Jaggery is same (sugarcane juice), the difference is in the Jaggery Manufacturing process. Unlike modern refining technique used to manufacture White Sugar, the Jaggery making process
followed in India is pretty traditional and does not include any form of chemicals. This whole process of making Jaggery is so organic in nature that it preserves a lot of natural ingredients of the Sugarcane in the Jaggery and improves our health when consumed in moderate quantities.
How Jaggery is Manufactured? What is the process of making Bebe Jaggery?

At Bebe Foods, we stick to the following steps in the making of Jaggery:

    Mapping of Cane and Cane farmers to ensure meeting the set standards of
    quality and cleanliness.
    Procurement of Cane within 5 KM catchment – Freshness Guaranteed
    Inspection of the harvested Cane for quality, freshness and cleanliness
    Single Cold Pressed Juice Extraction to preserve the nutrients of the sugarcaneplant.
    Multistage filtration of Cane Juice to ensure clean juice.
    Juice Cleansing with Natural Cleansers like Sukhlai – a plant from the species of Lady Finger
    3 Pan Earth Furnace Heating Technology to concentrate Sugarcane Juice
    Air-cooled crystalized Juice Slurry turned into molten thick paste hygienically.
    The semi-fluid is transferred into SS Tray mould for delectable Bebe Jaggery Cubes

3 Pan Jaggery Making Unit

    Improved 3 PAN Jaggery technology in Use
    Small is beautiful. If PAN size increases jaggery quality goes down
    Without compromising with traditional art of making Jaggery have improved
    and improvised

At Bebe Foods, we adhere to set SOP to ensure that you can always enjoy your piece of Bebe Jaggery without thinking twice. Not just this, we have so many more reasons to ask you to choose us:

    Bebe Foods is all about Healthy Food products and we specialize in Jaggery
    Our raw material-Cane is of best quality grown in fertile doab region of
    Muzzafarnagar, Uttar Pradesh
    The cane crop we procure is largely irrigated by mineral-rich water of Ganges Canal
    We offer the widest range of Jaggery products to suit your taste.
    Our Jaggery is available in Polypacks, Jars and Sachets to suit your
    convenience
    Our In-house laboratory and a state-of-the-art Jaggery making unit ensures
    that only the highest standard of Jaggery reaches your home through our
    esteemed delivery partners like Amazon, Milk Basket and Big Basket.

So, next time when you are having Bebe Jaggery post meals or with Tea/Coffee/Milk, be assured of the Quality & Taste. If still glued to White sugar – Switch to Bebe Jaggery today and always Stay Healthy!