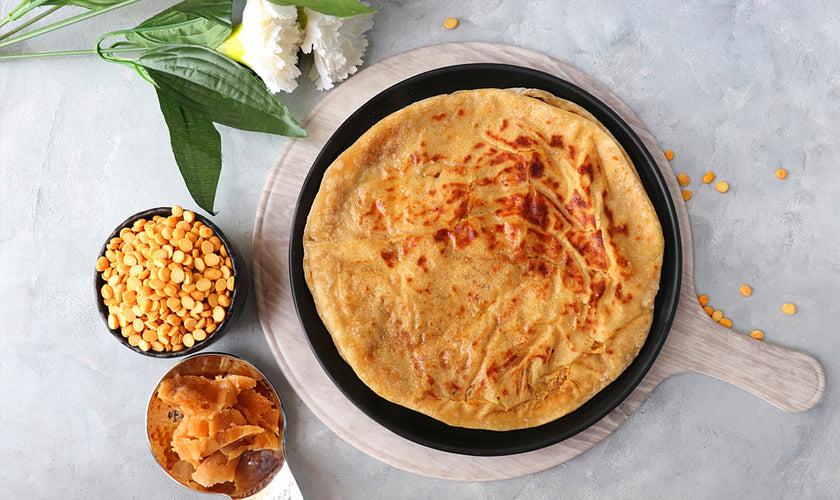 Droolsome Jaggery & Food Combinations For You
It improves digestion, prevents constipation, and also helps in treating various skin problems. When used in combination, the health benefits of Jaggery increase and will help you stay healthy. The natural sweetener must be your go-to snack, and you must incorporate this into your winter diet. If you are looking for a healthier alternative for refined sugar, then this is it. It is much more nutritious than refined sugar and is low in calories.

Here are some of the drool some Jaggery and food combinations that you must try:

Jaggery and Roasted Gram

Strengthen your muscles and your teeth with this excellent combination of Jaggery and roasted gram. One of the best things about this combination is that it's easy to store. Roasted grams are one such snack that provides a variety of health benefits. It is rich in iron, calcium, phosphate, and vitamins. They also help in controlling the blood sugar level. You can store this combination in your office desks or can have them after having midday meals. Eat this combination instead of sugar-loaded snacks.

Jaggery and Turmeric

Turmeric is a spice that is well-known for its medicinal properties. It has anti inflammatory properties that help in maintaining blood sugar levels. It will help you stay healthy and prevent you from falling sick even during extreme weather changes. You must try this combination and remove all the toxins from your body. You can sprinkle some turmeric on your piece of Jaggery or mix some Jaggery and turmeric to the milk. You can enjoy this combination of Jaggery, turmeric, and milk at night to stay healthy and boost your immunity.

Jaggery and Peanuts

Many people use peanuts as a part of their weight-loss diet. If you eat peanuts, then you are not only getting proteins, but also potassium, fiber, and healthy fats. They are also a great source of vitamins and minerals that reduces the risk of various heart diseases, cancer, and gallstones. The combination of Jaggery and peanuts is super healthy, and you must try this out. The combination also relieves and makes menstrual cramps a little less painful and prevents constipation as well. Eat this combination in small doses and reduce your craving for unhealthy and junk food combinations. The duo will also regulate your appetite and help you maintain a healthy weight.

Jaggery and Water

Many people prefer having a glass of warm water in the morning to maintain their metabolism. Add some Jaggery to the warm water and increase the power of the combination. Warm water and Jaggery together will help in detoxifying the body and maintaining healthy body weight. Start having this combo in the morning to maintain your health. It will improve your digestion and will also help you with weight loss. This combination will make the process of losing weight a lot easier when it is used with the right combination of foods and workout routines.

Jaggery and Coriander seeds

Coriander seeds are effective for your liver and your digestive system. The combination of Jaggery and coriander seeds is an excellent remedy for menstrual pain. It is extremely helpful for women who are experiencing PCOD. It can even ease bleeding during menstruation. You can mix coriander seeds, Jaggery, and ginger to fight common cold & cough. Have this combination and improve your immunity system.

Jaggery and Ghee

The combination of Jaggery and ghee is absolutely amazing and a must-have in winters. It will not only prevent constipation, but it will also detoxify your body and improve overall digestion of your body. Not only this, but it is also beneficial for your skin and nails. The combination will also boost your mood and helps in overcoming amnesia. You can have this powerful combination every day and maintain hormonal imbalances. Make Jaggery a part of your diet and improve the overall health of your body. Buy high-quality Jaggery from Bebe foods and get it delivered to your doorsteps. We are one of the leading Jaggery manufacturers in the country and provide high-quality Jaggery round the year. You can store this safely and use Jaggery from Bebe foods for up to nine months. All the Jaggery is made with the traditional method and refined with natural cleansers. You can buy our Jaggery from top e-commerce platforms, such as Amazon, Flipkart or Paytm.