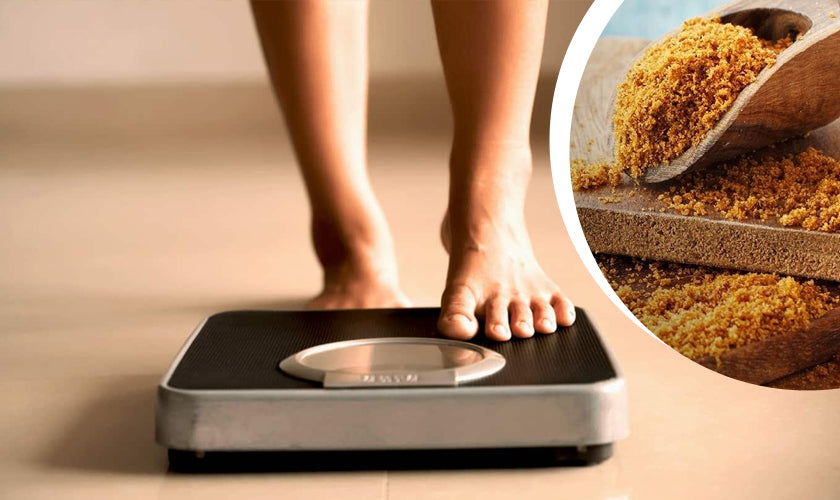 Jaggery & Weight Loss
The percentage of people suffering from obesity is consistently increasing over the last few years. It is not just common among adults but is drastically taking over kids as well. This is becoming a massive concern for the new generation health-conscious crowd persistently struggling to maintain a healthy weight. There are innumerable underlying reasons behind the boom in the obese population in the modern era. Some of the crucial causes include unhealthy lifestyle, genetics, consumption of processed food, high levels of stress, addiction to alcohol and recreational drugs, and specific medications.
Shift your weight-loss approach choice to the healthier and safer one!

Losing weight has become a real struggle nowadays, coping with the nine to five-desk job routine and pressurizing personal lifestyle! Many people are bound to use weight loss medications and products. This is because scheduling two hours for the gym or eating a super healthy diet is not an option for one and all. However, only after a certain period, we realize the devastating side-effects of unconventional weight-loss approaches. That being said, jaggery combined with warm water is considerably becoming popular among people struggling to lose fat as a solution.
Why trying this method every morning will be fruitful for you?

Consuming jaggery mixed with warm water just when you wake up works effectively to help you cut out on fats. It works by clearing your stomach, enhancing your digestive system. It keeps issues like digestive ailments, acidity, or constipation at bay. The excellent and natural slimming solution helps in the proper secretion of crucial gastric fluids. As you can see, it clarifies all the root issues that invite weight gain in the first place! Also, you would be interested to know that it is a highly potent source of magnesium, potassium, and essential vitamins like B6, B1, and C. Various research also say that a significant percentage of fibre is found in it that helps in clearing toxins. Jaggery also contains a certain amount of potassium that aids in balancing mineral and electrolyte levels in your body. This accelerates the rate of metabolism as well as keep you full of energy during extended workouts sessions.
What herbal experts have to say about this slim-down solution?

This is a powerful remedy that has been used for generations and has been backed by traditional medicines. As per research in herbalism, the combo health drink is not just a weight controller but also a literal antidote for your ailing health. By boosting natural bodily enzymes to stimulating hormones, it acts as a natural and powerful solution to glowing skin and slimming off at the same time.
Tips for you to try this slimming hack the right way!

There is no doubt that it is a super-easy way of cutting down on calories and fat. But to melt off your ages of layering of fat or even temporary baby fat, you need to consume the drink in the right way. From the amount of the two components, the timing, to the temperature, you need to note everything! So, if you are trying it for the very first time, go through these quick tips!

    Take a medium-sized glass of Lukewarm water.
    You do not need to calculate a specific number of grams. Just pick a small chunk of jaggery and add it to the water. A tablespoon of jaggery powder will also do the needful if you prefer that.
    Give it a good stir and drink it up before it cools off!
    Make sure you have it just as you wake up before eating your breakfast or anything else on your diet plan. Early morning is the best suggested time to make it work. Continue with this routine along with a moderately healthy diet and exercise each day till you get the healthy body you always aspired.

However, said and done, be sure enough to pick good quality jaggery or powder. The quality will have a significant impact on your health. If you are looking for a brand that cares for your health, feel free to shop the ideal quality jaggery from Bebe Foods. So, what's stopping you from adding an edge to your confidence and fitness with this super-easy and natural solution? Good luck!